Are the surfaces in your home showing their age? Do they appear dirty, no matter how much you scrub? You may think the only solution is to pay for an expensive replacement project, but there is another way. We can renew the shine to your stone, tile and grout. Our specialized cleaning solutions and powerful suction remove the dirt & grime from your grout like they were new. Seal out harmful particles for more healthy floors & counters. Bring back the true colour of your grout now!
Over time, mould, mildew and dirt take residence in the porous surfaces of your tile, stone & grout. Our cleaning solution penetrates deep inside these pores removing bacteria and other micro-organisms. Our special sealant will help keep your tile, grout & stone bacteria free.
Our professional-grade cleaning process leaves your tile and grout surfaces sparkling clean like the day they were installed. We remove the dirt and grime that builds up over time and your tile and grout's colour will be restored. We also apply a protective sealant to ensure you get the most out of the investment in your home.
Interested in a free quote for

Floor Tiles Cleaning

or Floor Steam Cleaning? Give us a call on +971 50 484 7911 or 04-232 7969.
We can make your dull & yellow tile shiny & white again. Bring that old grout back to life and rid yourself of the stains, smells, & bacteria now by calling +971 4 232 7969 or +971 50 4849711.
Different floors have different maintenance needs. Ceramic tile is a valuable material that is smooth unlike concrete and does not rot like wood. However, dirt and debris accumulate on the tile and within the grout lines. Over time, the grout can disintegrate and damage the floor. Professional tile and grout cleaners use the most effective methods to keep floors clean. As a concerned home or apartment owner, consider the reliable services of Deccan Building Cleaning Service LLC. The company also cleans and polishes for people who are fond of marble. Deccan Services Dubai tile cleaning professionals consider each floor individually. They choose the best cleaning method based on the condition. As a homeowner, you may have used cleaning products that strip the floor of its shine and strength. If you do not seal the grout, the color and texture may change. An unsafe and unpleasant residue is common. Deccan Services Dubai's green cleaners are biodegradable and leave no reside or stains behind. Deccan Services Cleaning professionals pay attention to your needs. They provide plenty of safe, effective options for your floor.
We clean most types of tiles and stones including:
Ceramic or Porcelain

Granite

Limestone

Marble
From Kitchen to Bathroom
Tile and grout are notoriously difficult to clean. Every homeowner knows that regular mopping, home tile cleaners and home grout cleaning methods just don't do the trick, especially if you're trying to eliminate stubborn dirt that has settled on tile surfaces or deep into grout lines. Call Tile and Grout Cleaning Services in Dubai UAE, and we'll come to the rescue Deccan Cleaning Services Dubai's professional Tile Cleaning and Grout Cleaning process will keep your tile surfaces, grout lines and countertops clean and fresh. We can boldly go where bottled cleaners and household mops have never gone before!
What makes tile cleaning and grout cleaning (including colored grout cleaning) so difficult? Dirt and contaminants build up over time, making your tiles look dull, and causing grout to darken and appear discolored. Home cleaning methods simply can't get at the built-up, ground-in dirt that has settled in hard-to-reach places. Dirt trapped in the pores of tile and grout is especially difficult to remove with traditional cleaning solutions.
Thankfully, Dubai Professional Tile and Grout Cleaning's powerful cleaning system safely cleans floors, showers, and countertops by quickly removing dirt and contaminants. Our Tile Cleaning and Grout Cleaning process uses heat, a specialized cleaning solution, and vacuum power to remove the dirt that homeowners can't. We complete the job with a high-pressure rinse.
Protective Seal
After cleaning your tile and grout, our professional technicians will apply a penetrating sealer to protect grout against mildew and staining for up to two years. And basic Grout Cleaning isn't the only service we provide. If you have colored grout in your kitchen or bathroom or between other tile surfaces, our special Grout Color Sealing process will protect it.
Tile and Grout Cleaning Services in Dubai will safely get ceramic and porcelain tiled surfaces sparkling again! And if your tile is made of natural material such as granite, marble, slate, travertine or Saltillo, no problem! Just visit our Natural Stone page for more information.
We Clean Marble Floors Too
In addition to tile cleaning, we provide marble cleaning and polishing services. At first, marble looks glossy and attractive, but like everything else, it loses its luster. Professionals do not just clean with soap and water. They use cleaning solutions and equipment that are safe, effective and non-damaging. They polish to cover scratches and bring in a new shine that catches anyone's eye. Within hours, the marble surface looks many times better than it did before. It is unsightly to see broken floors and dull counters. If you ignored it once, you cannot ignore it forever. Fortunately, Deccan Building Cleaning Services professionals have cleaned many tiled floors and counter tops in Dubai so they like new again. There is no need to fear going into your bathroom or kitchen. Choose a tile and grout cleaning Dubai provider that guarantees long-term results.
---
Whether you have marble, tile or hardwood floors, you may have had difficulties cleaning them before due to an uncertainty or fear of incurring any damage to the flooring material. However, now with the assistance of Deccan floor cleaning services dubai, you can be confident that your precious flooring will be cleaned in the most precise and safe method possible, without the risk of any of damage.
Deccan Services Dubai's professional marble floor and surface care and maintenance services for residential properties include expert interior and exterior cleaning and sanitizing, honing and polishing, repairs, sealing and protection, and more.
Is your marble floor too dull or too shiny? Call Deccan Cleaning Services Dubai and specify the finish you need. If you have a new floor with some tiles that look more glossy than others – let "Deccan Services Dubai" even out the finish for you. Whether you have or are seeking to acquire a gloss, semi-gloss or matte finish, Deccan Services Dubai can deliver a beautifully restored or changed marble finish.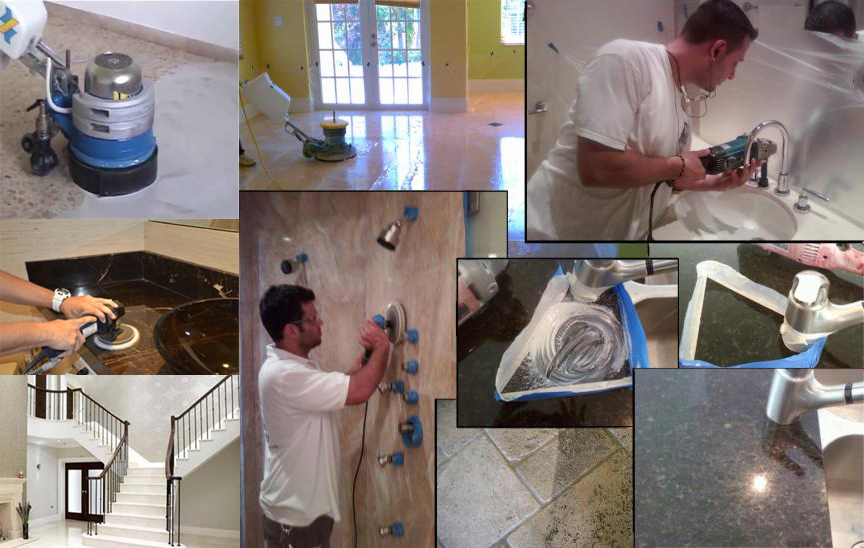 Deccan Floor Cleaning specialists have a cherished and respected history in the field of cleaning and maintaining flooring of all types, with an expertise in both natural and synthetic flooring.
SCOPE OF WORKS AND SERVICES WE PROVIDE FOR MARBLE FLOOR CLEANING, POLISHING & MAINTENANCE:
✅ Marble Stain Removal
Stains form because of the minerals and iron deposits found in natural stone and the elements, but we can help with this – contact us today!  Deccan Services Dubai can remove marble stains, as well as marble discolorations. Whether you are seeking guidance on how to do this yourself or want "Deccan Services" to treat your marble, the original finish of your stone can be restored.
✅ Marble Deep Cleaning and Sanitizing
Marble cleaning processes vary based on the surface condition and type of dirt or oil being removed. Marble is easier to keep clean with periodic professional deep cleaning services, using non-acidic, highly-effective cleaning solutions. However, once wear sets in, creating hollows and low points for dirt to collect, your marble can become difficult to keep clean again. Deccan Cleaning Services Dubai can assist you in not only cleaning your marble surfaces, but in keeping your marble properly polished, maintained, and free of scratches to help make regular cleaning and care of your stone easier.
Consisting of grinding and sanding the stone down to its original surface, followed by a thorough polishing and finished with our natural stone sealant.
✅ Marble Polishing & Honing
Does your marble floor have dull areas associated with wear patterns, scratches, etches or spots? Deccan Services Dubai can hone your marble surfaces to eliminate these imperfections, resulting in a new marble surface free of damage. With our marble honing services, our expert technicians can achieve a honed or soft matte finish that is warm, inviting, and velvety smooth.
An uneven finish, dull spots or etches can diminish the elegant appearance of your marble floors. Deccan Cleaning Services Dubai can polish your marble using the appropriate diamonds or polishing powders to restore the finish you want, whether matte, semi-gloss or gloss finish. With our marble polishing services, our expert technicians can achieve a beautiful, glass-like polish. Our polishing service brings out the brilliant shine & natural color of your stone, while honing promotes a more matte look. It's a high gloss vs. matte question, and is simply a matter of preference 🙂
 ✅ Marble Sealing & Protecting
Sealant protects your newly restored stone from wear & tear to assure your marble looks great and retains its natural beauty for years to come.
Once your marble floors, showers, tub surrounds, walls, and other marble surfaces are restored, we highly recommend you have us seal them to enhance their stain resistance. All stones (unless resined) are naturally porous. If left unsealed, there's always a risk of spilling a colored or reactive liquid, discoloring your stone. While most stains can be removed, marble stain removal can be a time consuming, expensive and often frustrating process. Sealing represents an inexpensive, preventative measure against marble stain damage.
 ✅ Wax Stripping (Marble Waxing)
Our wax stripping service removes old dirty wax from your stone and places a new fresh layer in order to promote lasting shine and beauty.
 ✅ Marble Lippage Removal / Restoration or Grinding
Are your marble tiles uneven? Do you want your tile floor flattened to the grout lines to facilitate easier cleaning? Deccan Services Dubai can grind away the excess stone (a process called lippage removal) to create a flat, level surface using state-of-the art diamond grinding technology. Once ground to the level and shape desired, the marble is honed and polished to the finish you want. Over time, marble surfaces and edges can become scratched and uneven; this service fixes that. Lippage removal can also eliminate some of your worst scratches and floor stains.
✅ Marble Etch Removal
Marble is prone to etch marking because of its calcium carbonate makeup. As acid reacts with the calcium carbonate, it eats away at the surface. Contact us for a fix!
✅ Crack & Chip Repair
Cracks and chips in natural stone tend to get worse fast, so it's important that you contact us soon for treatment.
✅ Color Enhancing
Our color enhancing treatment brings out the natural color of your stone. The difference will be clear!
✅ Commercial Maintenance
Get in touch with us today to learn about our commercial maintenance packages.
SCHEDULED MARBLE MAINTENANCE
Regular cleaning and janitorial services are valuable for simple, day-to-day care of marble floors. But over time, their processes leave floors with grout lines that just won't come clean, shiny scratches, and increasingly obvious traffic patterns. As these problems develop, you become more and more dissatisfied with the appearance of the floors until it's time for another round of professional restoration. Ask about our regularly scheduled maintenance program which keeps your floors looking great all the time, without the need for periodic restoration.
Residential & Commercial Stone Restoration Services
We offer services to corporate and private clients of Restoration, Maintenance and Repair of all types of natural stones:
► Marble        ► Ceramic Tiles        ► Porcelain Tiles     ► Granite       ► Terracota      ► Limestone     ► Slate     
► Wooden, Parquet & Timber     
► Vinyl Floors   
► Sandstone & Limestone
The services we offer shouldn't be confused with "cleaning" although we do offer a stone cleaning and polishing service. Marble and natural stone restoration is a highly skilled job as stone can be ruined very easily by an inexperienced tradesman.
You will find a lot of "cleaning companies" offering this service and using extremely harsh abrasives and acids to destroy your stone for you. When this occurs we can usually fix their problem but it can cost a lot more to sort out. Get the marble and stone restoration done right first time, call us at +97150 484 7911 or +97142327969.
When your marble has lost its shine and brilliance due to daily wear and tear or as a result of recent damage, contact Marble Cleaning Dubai today for a free marble restoration and polishing consultation.
Interested in a free quote?

Give us a call on +971 50 484 7911 or 04-2327969.